What Do You Want the Most In Your Life?
What Is YOUR Dream?
I help you overcome your top challenge, get what you want faster, and become a Dream Achiever.
Get your digital copy of this new and award-winning book, Get What You Want. You will also get free access to a life changing master class and a video training series to accomplish any of the above big goals and make this year your best year ever.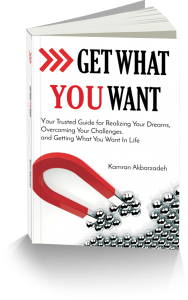 Dream On and Get What You Want in Your Life
Are you ready for a life changing training program by Dream Achievers Academy's founder, Kamran Akbarzadeh?
Latest Features
Expert advice and in-depth features for a happy and successful life
We have all heard about The Law of Attraction: I attract to myself, whatever I give my focus, attention, or energy to; whether wanted or unwanted. It is
It Is Your Time My Friend...Watch This Video and Join Us on Facebook!
Join Our Community on Facebook
Discover 5 Habits of Highly Successful People
Downloadable Guide
Get access to a free guide and video on the top 5 habits of highly successful people and how you can develop these habits to guarantee YOUR success.