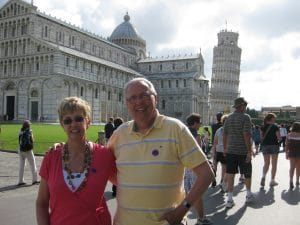 One of my goals this year is to expand my network on social media especially LinkedIn. Through LinkedIn you can connect with many amazing professionals who are passionate about what they're doing while helping others.
Recently, I connected with prosperity coach and healthy lifestyle advocate, Deanna Waters. After we connected on LinkedIn, we decided to talk over the phone and see how we can help each other and serve more people together. During the phone conversation, Deanna shared her story with me. To me, she is a true dream achiever and leader. And that is why I decided to write this blog post to not only share a bit of her story with you but also let you know how Deanna can help you generate passive income and therefore become a dream achiever.
Both Deanna and her husband, Dave, graduated from Iowa State University with science degrees, majoring in Telecommunicative Arts. After graduation, Deanna experienced a variety of communications opportunities, including a business magazine editor, director of marketing and communications for an economic development corporation, and writer/producer of a weekly children's television program.
Despite her achievements in the corporate world, Deanna was not fully satisfied with her corporate job maybe because she was not doing what she loved to do or maybe she was not living and leading on purpose. And when Dave's job status changed as a successful national TV producer and director, they wanted a change. They wanted to get rid of the negative impact of the corporate environment, long working hours, poor eating habits, all the stress which had resulted in their health issues. That is when their insurance agent introduced them to the world of referral marketing!
After some research, Deanna and Dave picked the health industry and decided to represent USANA, a leading health and nutrition company. USANA's dedication to scientific research
and development of healthy nutritional products was the main reason Deanna and Dave decided to pick this company for referral marketing. In fact, both used USANA's products themselves and transformed their health with greater sustained energy, increased mental clarity, reduction in stress.
Now after 23 years being in the direct sales industry referring USANA, Deanna is living her passion and fulfilling her purpose. She feels wonderful to work from home with no set hours and the freedom to travel or to help others when needed. Even better they see no limits on their income earned from a possible 27 countries and growing with many others on their team.
Over the past 23 years, Deanna and Dave have achieved a lot:
• Popular speakers, trainers, coaches
• Top award with USANA Health Sciences: The Dr. Wentz Vision Award, 2006
• Authors of the book Success on Purpose…NOW! published by Outskirts Press
• Foundation Executive Diamond Directors with USANA
• Served four times on the Independent Distributor Council
• Five times in the top 100 earners worldwide
• Travelled to Uganda and Peru on a mission trip with USANA and the Children's Hunger Fund
• Received the CHF Children's Champion Award
• And much more
With these achievements, Deanna is not only a dream achiever but also a leader who leads with heart and help her team members grow and succeed.
After talking to Deanna, I ordered her book, Success on Purpose…NOW!, read it, and learned some tips and nuggets of wisdom. Here are some quotes from the book: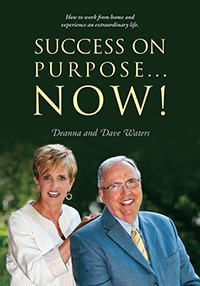 "Whatever your age or gender, whatever your challenges, whatever the barriers placed in front of you, the answer to whether you can accomplish your dreams is 'yes'."
"Success comes with being 'on purpose' with a positive attitude and the belief that you are worthy and capable of achieving more, being more, having more, and giving more."
"You can make excuses, or you can make a difference."
"Referral marketing is one of the most popular ways around the globe to create extra streams of income, to pay off debts, and to experience greater financial independence."
"There is no safe and secure retirement without careful planning… Plan ahead, whether you are 20, 35, 45, 67, or older."
"Constant and consistent effort can move mountains. Beyond a wish or thinking about it, you must make a commitment to take daily action."
"When people give an objection to what you are presenting, don't take it personally, but rather take that as a good sign that they are thinking seriously about what you have to offer."
"See your dreams and goals already answered. Be thankful for the outcomes. Expect positive results."
Deanna and Dave's mission is to help people who are serious about boosting their finances, health, and personal relationships to discover the freedom of being an entrepreneur and creating a healthier lifestyle, more time freedom, and an expanded income. They have helped many people from all walks of life create extra streams of residual income, working from home.
If you are inspired by Deanna's story, you may join her Success On Purpose team and get started with USANA today. Please visit Deanna's website here. I also recommend Deanna and Dave's book Success on Purpose…NOW!
Kamran Akbarzadeh, PhD
Founder of Dream Achievers Academy
Author of Leadership Soup and Get What You Want
Please share your comments