Complementary Gift Package from Dream Achievers Academy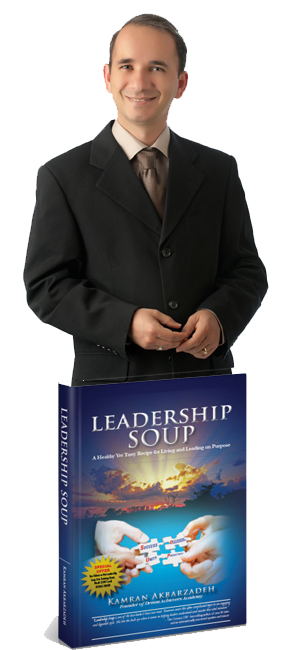 Gift #1: First chapter of Dr. Kamran Akbarzadeh's Amazon best-selling book, Leadership Soup. This book shares with you a profound recipe for living and leading on purpose.
Gift #2: Audio recording of Kamran's "Best Year Ever" teleclass that helps you helps you set and achieve the goals that you really want in the New Year and make 2012 your best year ever!
Gift #3: Kamran's popular e-book 101 Super Tips for a Better Life which is the result of what he has learned over the past several years. This e-book can help you develop a stronger relationship with your passions and guide you toward living a more fulfilling life.
Gift #4: The Dream Achievers Roadmap training video teaches you the six steps of dream achieving process. In this video Kamran shares with you how you can achieve your dreams no matter how big or small they are.
Gift #5: Access to Kamran's recent webinar on How to Grow Yourself and Your Business through Leadership Soup Formula.
Gift #6: Downloadable Leadership Soup MP3 Song written and sung by Jen Hannah (First song of the 14 songs from Leadership Soup Songs Digital Album)
Click to Get Access NOW!

This gift package will help you get back on track with your dreams and vision.
Dear friend,
Thanks a lot for your interest in Dream Achievers Academy and our gift package. We hope that you will enjoy the gifts and implement the tools, techniques, and tips in your personal and professional life. Our vision is to add value to people around the world and inspire them to live and lead on purpose. To fulfill this vision, we need your help and support. If you know of anyone who could benefit from this gift package, please forward this link (www.DreamAchieversAcademy.com/gift) to them. This way you have played an important role in positively impacting someone else's life.
To Your Success,
Kamran Akbarzadeh, PhD
Founder of Dream Achievers Academy